Donations
The easiest way to donate is via the Charity Giving web site, Click on the picture to the left to take you straight to their donations page.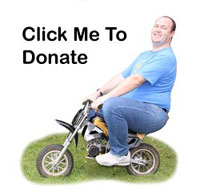 Charity Giving is a charity donations web site that ensures any monies you donate all go to their respective recipients. Indeed, if you are a UK tax payer, make sure you check the Gift Aid box on donating and Charity Giving will add the tax relief to the donation, so a donation of just £10 is worth £12.42 to Keeping Abreast.
Getting Involved...
I'm keen to get as many people involved with the Fat Bloke On A Moped projects as possible. Many hands, light work, etc. My background is not one of a motorised two wheel variety so I'm a complete 'biker' virgin. I use the word 'biker' when referring to myself rather loosely as I can appreciate there are varying levels of the biking community and as I'm very much an outsider, I've not really ascertained where the moped community fits in.
My local newsagent in Downham Market seems to have quite a few motor bike magazines and only one (that I could find) moped magazine and one other called Twist & Go which seems to be aimed more at the bike I have. I have no prejudice here and for that reason...
No matter what sort of motor bike you ride, you are more than welcome to join in a leg or part of a leg.
So if you would like to take part, by riding a leg or part of a leg with Project Britain in June/July 2011, have a look at the Project Britain page time table and get in contact with me. A donation to the cause would also be appreciated.
Bear in mind that due to unforseen issues that may arise on the trip, the timetable will have to be flexible, so I suggest you keep an eye on the web page which will be updated daily as to our progress, however......


Ride The Final Leg - 16th July 2011
If you would like to join in, email me on david@fatblokeonamoped.com
or call me on

07919 902902

Assuming everything goes to plan, our final leg of this epic trip will take place on July 16th 2011. If you want to do your bit for raising awareness for Breast Cancer and fancy a great ride around the coastline of Norfolk, join us on Gt Yarmouth sea front, right in front of Britannia pier in the morning and we'll set off after a spot of lunch at approximately 12.30pm. There is no entry fee, but please place a donation in the collection buckets on the day. In summary...

When: Saturday 16th July. Arrive any time in the morning, soak up the sun (I've ordered full sun for the day) and ambience and of course feed yourself a lunch at any of the cafe's. Main entourage will leave some time after 12.30pm.
Where: Great Yarmouth sea front, outside Britannia pier entrance. Parking for bikes is on the expansive pavement in front of the pier. Aim for the ladies in pink who will be rattling pink buckets
What: As many bikes as we can muster doing a charity ride. Raising awareness is as much as the aim of the Fat Bloke On A Moped team as is fund raising. The earlier you get to the sea front the more awareness we'll raise by the quantity of bikes parked
Why: Because we can

Current Riders who've said they're taking part:
(Obviously this number may be different on the day!)

32

Me, Kevin, Peter Smith, Jane Beeton, Phil Beeton, +2, Johan, Chris & Tracy Kardie, Euan Lucie-Smith, Tina Lucie-Smith, Mark Sharman, Paul, Helen Simmons, Michael Whittaker, Keefus, Colin (Eden Garage), Gouldie, Tony Wardell, Brett (& + 9), Jason Jackson, Mick, Matt Nicholson
To contact me, click the link on the left of the page marked 'Contact'
...by Equipment Loans or Donations
Building up a picture of things that are essential for the projects is going to be an ongoing task.

I need to stress that all monies raised will be going to Keeping Abreast so the teams equipment is being financed by their own pockets or maybe by your generosity.

I've colour co-ordinated the lists and tables below to highlight and emphasise how important different things are to our project. It seemed easy enough to use RED AMBER and GREEN to reflect the severity of everythings importance.

| | | | |
| --- | --- | --- | --- |
| Individual Items | David | Kevin | Roger |
| Moped/Scooter | Honda FES 125 Pantheon | Honda PS125i | n/a |
| Helmet | Yes | Yes | n/a |
| Protective Jacket | Yes | Yes | n/a |
| Protective Gloves | Yes | Yes | n/a |
| Protective Boots | Yes | Yes | n/a |
| Protective Trousers | Yes | Required | n/a |
| Fuel* | Yes | Yes | Yes |
| Bike Mounted Sat Nav | Desireable | Desireable | n/a |
| In Helmet Communication | Yes | Yes | n/a |
* Based on a cost per litre of £1.319 per litre, we required £607.88 for the bikes, the support vehicle would require an approximate £350 although the support vehicle will be performing a lesser route. It's job is not necessarily there to follow the same route as the bikes but to handle evening and morning arragements.
General Items

Current Status

Notes & Contributor
Support Vehicle. Ideally a 3 [seperate] birth camper van (Failing that, a transit style sized van instead would be exceedingly useful.)

Roger has a friend who is happy to loan us the use of his Transit Connect.

Anon contributor.
The van is currently having another engine installed as the last one has exploded(!) We've been assured it will be ready and fixed for us to use.
In Helmet Communication system - I've not a clue what's available. Not essential but could be very useful

Awaiting delivery

A friend of mine and Claire's has volunteered his system for us to borrow. Should make things easier for us both on the road! Thanks Adrian.
Funnel

Acquired

Fat Bloke Support crew
Tents & Camping equipment (in case we can't secure either a camper van or 5 star hotel chain's generosity :-)

Partly acquired camping equipment.
Many nights accommodation secured.

Fat Bloke Support Crew.
Also, a small army of B&B's and guest houses have been mind blowinly generous and have offered the team of 3 accommodation for nearly all the evenings we're away. Words fail me, but suffice to say it has reaffirmed my belief in the milk of human kindness. Thank you.
First Aid Kit

Acquired

Anonymous donator
Large Water Container

Jerry Can(s)
3 x 5 Litre cans acquired
5 Gallon Jerry Can
Fat Bloke Support Crew.
Anonymous donator.
Signage
Acquired

All sign's for the bikes and advertising boards have been kindly donated by JD Signs. Click their icon for their web sites.

Fuel
We're having some success. I've added a fuel gauge to the web site to indicate our current level of fuel donations.

Shining Tree
Pace FuelCare
Mackies Stationery
Nicholson Machinery
Marshall Toyota King's Lynn
*the above are of course listed as sponsors

Motorbike Roadside Assistance
All 3 major roadside assistance firms have been approached but we were rejectesd from all 3
Roger and Kevin have cover as part of their insurance.
I'm happy to be the spanner man for the trip although I have taken out a basic cover with a roadside assistance organisation.
Naturally, if you're kind enough to donate or loan us any equipment, we're more than happy to have it emblazoned with your sponsorship and of course list it here among our sponsors.
I expect these lists to change quite regularly as the project develops, so check here frequently. If there is anything you have that you think would be useful to us with our project, then please
contact me
.